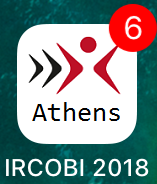 The International Research Council on Biomechanics of Injury (IRCOBI) runs a conference each year in Europe and in Asia. In September 2018, around 250 academics and industry professionals attended their Athens conference, with over 100 papers presented in 18 sessions over three days, with the usual meals and dinner.
IRCOBI used a conference app from PHDCC to provide the programme to attendees - and inform them of any last minute guidance. There was no need to produce a costly printed programme, and they could make changes and announcements before, during and after the conference.
The 2018 IRCOBI conference is already history. Just to give you a short feedback on the new app: everybody was happy with it. Thanks again for your work!
The app worked well and was received as a useful tool.